Where Do I Start?
With constant changes in the firearms industry, it is difficult at best, and keeping your FFL Bound Book accurate is a MUST.  When it comes to the ATF, they are no joke.  Getting your FFL isn't too hard but keeping it, now that can be a challenge.
The FFL Bound Book is at the heart of a gun business.
Yes, 4473s (for customer purchases) are very important too (most violations of the law come from these).  The core records for every FFL are the FFL bound books. This is because every FFL will at some point acquire, and probably dispose, at least one firearm. But, not every FFL will transfer a firearm to a non-FFL on a 4473.
As covered in the ATF Compliance training course, the ATF is concerned mainly with the trace-ability of firearms. This means that they need to be able to trace a firearm used in a crime from the manufacturer down through the stream of commerce (this includes you) to the end-user. When the ATF calls to trace a firearm, you will rely on your ffl bound book, in conjunction with a Form 4473 if you transferred to a non-FFL, to help the ATF to know where the firearm came from and where it went.
The FFL Bound Book
If you're reading this article, you most like already have your FFL and are looking to stay compliant with ATF rules and regulations. Let's cover some of what's required. If you'd like to learn more, you really should checkout out our ATF Compliance training course.
As an FFL, whether you're a gun dealer, firearm manufacturer, or arms importer, you must acquire and dispose firearms within a certain time period and in a certain format in your ffl bound book. If you'd like an up-to-date copy of all of the firearms rules and regulations, you might want to pick up a copy of the Federal Firearms Regulations Reference Guide (free to all RocketFFL students).
You must enter the information that is marked on the actual firearm. After all, that is the information that law enforcement will use to trace the firearm – they won't have the box, the shipping invoice, nor the marketing materials. Be very careful here – the requirements for the information change if the firearm is imported.
What Must My FFL Bound Book Have?
The firearm acquisition information in your bound book must include:
Manufacturer and Importer (if any)
Model
Serial Number
Type
Caliber or Gauge
Date Acquired
Name and address of individual received from OR name and FFL Number of FFL if it was a transfer in from another FFL (if you made it, then your info goes here)
The disposition information in your FFL Bound Book must include:
Date disposed
Name of who disposed to
If another FFL, then the address or FFL number of the FFL. If an individual (non-FFL), then their address or 4473 file number if you file your 4473s numerically.
Here's an example from the ATF for the proper A&D record format. Note the ATF made an error in their example, they have the disposition date located under the "Receipt" column. Life's not fair, if you make the same/similar mistake, you could get into trouble: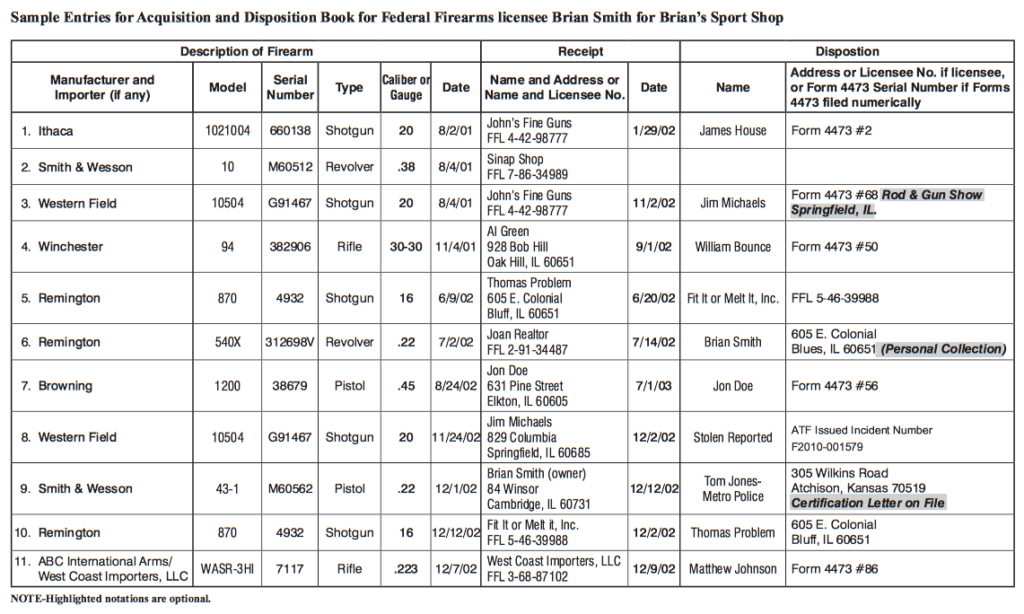 Here is a better example of how an FFL Bound Book SHOULD look:
As an example of the correct format for acquisition information with the wrong information – if you can't spot the 7 errors in the firearms' description information, then you really should consider taking our ATF Compliance training course. These are violations if found in your ffl bound book records.
Sample Acquisition Information (incorrect data)

| Manufacturer and Importer (if any) | Model | Serial Number | Type | Caliber or Gauge | Date |
| --- | --- | --- | --- | --- | --- |
| Glock | G19 | 12345678 | Handgun | 9mm | 1/1/16 |
| Springfield | XD | 23456789 | Handgun |  45 AUTO | 1/2/16 |
Additional Things To Consider
There are also time limits, depending on the type of acquisition or disposition, that your bound book entries must be made within. The date is the actual date you acquired or disposed the firearm, not the date that you made the record. If you make a correction, please ensure that you are doing it the proper way!  The ATF Compliance training course is starting to sound like a better idea, isn't it?
Paper records are perfectly legal, but as you can imagine, using electronic software for your A&D records can save a lot of time and allow for more accurate records.
Can I Do This On My Own?
There is a rule book that is 2 inches thick that you could thumb through if you need a good nap.  You can always call the ATF and ask them questions. What happens if you don't do something correctly?  But how do you remember all of those rules and regulations that seem to be ever changing?
You can reach out to another firearms dealer buddy to help walk you through issues.  But only if you know one.
Then there's the expensive route.  You can call an attorney and have them assist you in making sure you "Do It Right".  Granted, probably a great option if you are wanting to guarantee compliance.  Most of us can't afford one of those.  We do know of one firearm attorney that is great and you can check out his website here.
Changes In The Rules
There have been some recent changes that allows you to keep your ffl bound book digitally but where do you start?  You can create an excel spreadsheet if you know how to and use excel.  It is technically legal and the ATF is ok with it, but is it the best option?  You have quite a few options now a days which makes the decision even harder.  Software really seems to be the best route but choosing the right one… WOW, MIND BOGGLING AT TIMES!  It seems like everyone wants a piece of the new pie launching a software for firearms dealers.  Who do you pick and how do you know which one is YOUR best option?  Ryan Cleckner, Attorney at Law from Rocket FFL had a couple things to say about software for FFLs.  He is a firearms attorney and knows the industry pretty well.  You can check out his blog post about choosing a good software for your company here!
Make Your Life Easier
You are probably at the point where you might be ready to throw up your hands and give up.  Or you can try to muddle through the paper keeping method.  FFL Boss is ATF Compliant in all regards.  Check out one of our other posts to see exactly how we meet that ATF requirements.